SAVE 20% OFF ORDERS OVER $50.00!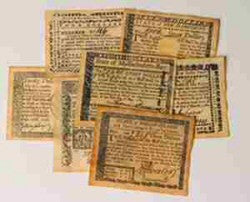 Colonial Era Replica Currency Set B
The Colonial Banknote Set B contains replicas of 7 different Colonial banknotes — varied completely from set B. Printed on antiqued parchment paper, so they have the appearance and texture of old banknotes.
Includes banknotes from:
United Sates
North Carolina
New Hampshire
Connecticut
Rhode Island
Virginia
Massachusetts-Bay
The replica notes are printed on one side only. They are printed in black ink, like most original currency of the time. Some of the original notes may have been printed using color ink and/or may have had reverse side printing. The word "COPY" is marked upon each replica note in accordance with the requirements of the Code of Federal Regulations, Hobby Protection Act.
The 7 banknotes are packaged in an envelope which is printed with the history of the currency.
---
ABOUT OUR DOCUMENTS AND POSTERS
PERFECT FOR FRAMING! Each of our documents and posters are rolled, NEVER FOLDED, and then inserted in a poly sleeve, and shipped in rigid packaging.
COLOR, TEXTURE AND SIZE MAY VARY. Our plate printed documents and posters are hand antiqued in small batches and are thus subject to variation in color and texture. Actual height and width may vary within 1 inch of the stated dimensions.
---
We Also Recommend